How to Play Geometry Dash Lite Emulator on PC
Geometry Dash Lite PC is a platform hobby that mixes geometric shapes, music, and mind-blowing visuals. In it, you control a square through a psychedelic world full of obstacles, having to avoid it all and reach the end of the level – or, at least, go as far as possible.
The game plays with music because the soundtrack is interfered with according to its movements. At first, you can just jump with the character over the obstacles in each scenario, but that changes as you progress, perform specific actions, and unlock new items to equip your geometric shape.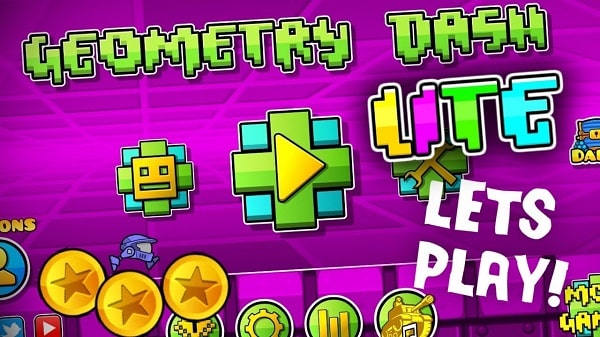 After some time, it will be possible to fly and even change the gravity within the levels, so strive to unlock new possibilities to increase your gameplay. And all of this you do just by touching the screen in up to six different stages, all full of colors and sounds.
Moving geometrically
The game begins and, with it, insanity also begins because the square runs out, and you need to be agile and precise to make it jump at the right time. There are many obstacles through the scenarios you pass through, such as holes and skewers in the ground, that need to be deflected.
There are floating platforms that must be reached to avoid contact with the pointed surface, for example, so it is essential to take each jump well to survive. If the character dies, you need to start the level from the beginning again, which can be quite frustrating.
The scenarios are organized to make your life difficult, as it presents variations that sometimes lead you to error. Paying attention to these details is highly important to succeed in Geometry Dash Lite.
Your character
The square you control does not always have to be the same, as it is possible to customize it on the specific screen for that in Geometry Dash Lite. There, you change color, add new features, and can even change the creature's facial expression, with several options to choose from.
Our Opinion on game Geometry Dash Lite
Geometry Dash Lite is a platform game that puts you in control of a geometric shape in adventures through a world full of obstacles. The scenarios have a psychedelic look, and the soundtrack is a crucial part of the game, as it changes according to your actions. Also, you can unlock items that enhance your character's actions.
The outstanding highlight of Geometry Dash Lite is the game dynamics, as it requires agility on the part of the player and offers the right level of challenge. All of this, combined, creates an intense experience that can hold your attention for a long time. Here is an easy game to play, but full of obstacles, something exciting.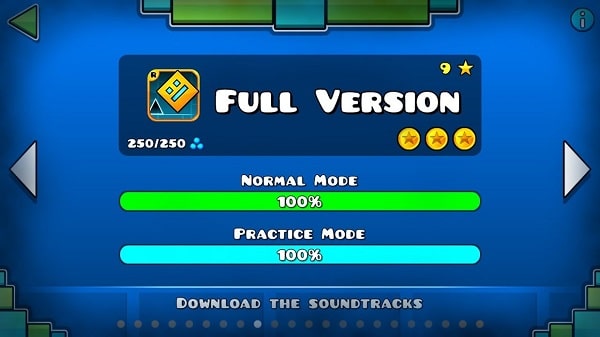 This is a scaled-down version of the full game, Geometry Dash, so there are restrictions on this game. So, be aware that, although it is free, it does not bring as many levels or extra features as the full version, which is paid for. This limitation can be seen as a negative point, therefore a characteristic that takes points from the game in its evaluation.
Everything at your own pace
One of the most interesting Geometry Dash Lite features, one of its differentials, is the interaction between the player's action and the soundtrack. As if the audio part of the game itself was not attractive enough, the jumps you make add an even more unique touch.
The gameplay is fluid, with nothing to block or hinder your mobility. Since you don't control the speed, but only the protagonist's jumping moments in Geometry Dash Lite, there is no problem in that sense – another positive point, and that makes a big difference in the level of fun of this game.
Visually speaking, Geometry Dash Lite also doesn't disappoint at any point. The game is a graphic spectacle both for the psychedelic aspect of everything and the retro air presented by its interface.
Anyway, if you doubt investing some dollars or not in the full version, playing with Geometry Dash Lite can be a great solution. Although reduced, this edition contains a little more than the basics and can be quite fun.
Geometry Dash Lite PC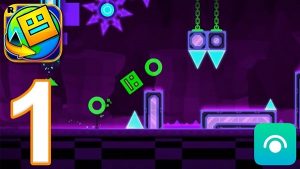 How to Play Geometry Dash Lite Emulator on PC
Price Currency: USD
Operating System: Windows
Application Category: Game