Currently, there are many emulator software, but recently there has been an emulator software for smooth PC Android gaming that is GameLoop; it is one of the few great emulators for gamers today.
Because Chinese giant Tencent backs it, it can run Android games on your computer, with optimized controls and intuitive interfaces like PUBG MOBILE PC, Free fire PC, and Call of duty Mobile.
How to download Gameloop?
Now you can download the game on your computer easily using this emulator software, and how to download it is also quite simple.
Step 1: Visit this website to download Gameloop on the https://gamehoy.com/en/ website
Step 2: Click on the download button and choose the appropriate version
Step 3: After downloading, you will see the file to download located in the lower-left corner of the browser; click.
Step 4: It will show up in one panel, and click on the Install button or install.
How to Download Games on Gameloop?
After opening Gameloop, you will see that its main interface has quite a few games. You can choose to download any one game, or you can also click on the search box and type the name of the game you want, then select the game, then select the settings to download that game, and finally click the play button to play the game.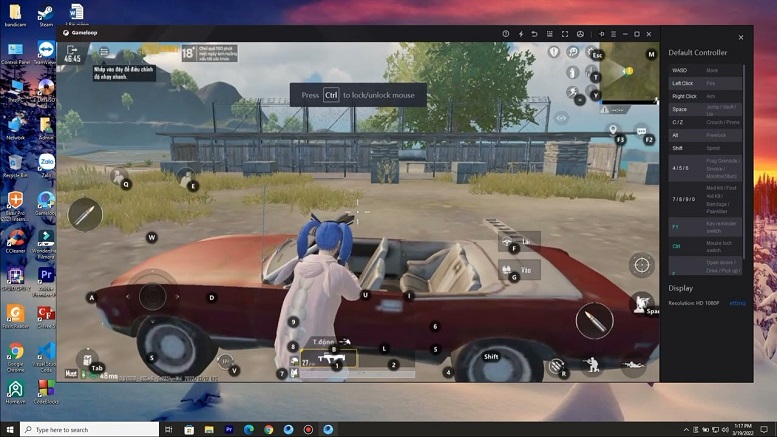 Video: how to download Gameloop 2022
Configuring using Gameloop
To use GameLoop on your PC, your computer must have the following configuration.
System: Windows 8.1, Windows 10 (64-bit)
CPU: Intel Core i3 560 @ 3.3 GHz or AMD Phenom II X4 945 @ 3.0 GHz
Memory: 4GB RAM
Capacity: 10GB or more
Graphics: NVIDIA GeForce GTX 460 or AMD Radeon HD 5870 (DirectX-11 compatible with 1GB of VRAM)
DirectX: Version 9.0c
What do you need to do when GameLoop loading fails / crashes?
Sometimes you won't be able to install GameLoop on your computer because of the error message "Download failed, please try again" or "HTTP download error. Please check your network connection. Error code: 21 ".
GameLoop download Error
Delete all temporary files
Press Win+R to open the Run boxes.
Enter temporary and click the OK button.
Delete all temporary folders.
Type %temp% on Run and click OK.
After that, delete all files in the Temp folder.
Type "prefetch" into the Run window and then delete all the files in that folder.
Reset Winsock
Relaunch Command Prompt as admin.
Select netsh Winsock reset, and press Enter.
Use a different DNS server.
Go to the Control Panel> Network and Sharing Center and click on your connection.
Click Properties and double-click Internet Protocol version 4 (TCP/IPV4).
Use the following DNS server addresses: 8.4.4 for the preferred DNS server and 8.8.8.8 for the alternate DNS server.